Experience cosplay,
a typical piece of otaku culture born in Japan, in Hamamatsu!
"Cosplay" was coined as a Japanese abbreviation for the English phrase "costume play."Today, however, the word is used in English all over the world.
It means the act of dressing up and imitating the clothes, hairstyles, makeup, etc. of characters appearing in anime and videogames, and a person who does cosplay is called a cosplayer.You might say that the difference between cosplay and just putting on a costume is that, rather than simply dressing up, you completely become the character.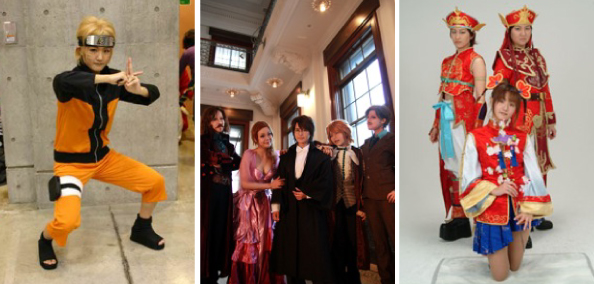 Left : Naruto  *Cosplayer Ena Fujiwara
Center (※From left to right) : Sirius Black *Cosplayer LICHT RION LYNX / Hermione Granger *Cosplayer Mikan Mashiro / Harry Potter *Cosplayer Shigure / Ron Weasley *Cosplayer ichi9 / Remus John Lupin *Cosplayer Rinc
Born in Japan, the cosplay that so typifies otaku culture has by now spread widely not only in Japan but also to other countries such as Brazil, Taiwan, European countries, and more, and cosplay photography events are held in many places here in Hamamatsu, Shizuoka too, including Flower Park, Zaza City, and Act City.In addition to participating as a cosplayer, you can also enjoy them by taking a camera with you and trying your hand at some photography.
Events are held irregularly, so checking the schedules on each homepage is a must!
COSTAiL
http://costail.com/index.html
COSPLAY FRONTIER
http://www.cosfro.com/
COSPRO
http://cospro.net/
2015.5.20 update
Content may be subject to change after publication. Please also note that we are not accountable for loses and damages that may occur as a result of said changes.