A famous garden that changes character with the seasons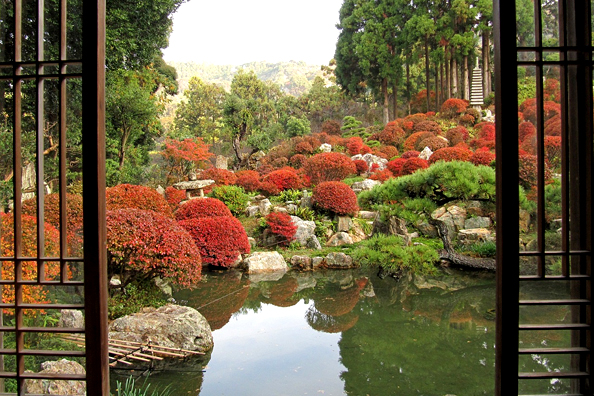 Chorakuji, located in Kiga of Hoseo-cho, Kita-ku in Hamamatsu City, has a history going back 1200 years to the Heian period, when it was opened by Kobo Daishi . The shrine was built for the purpose of viewing large, sacred rocks that receive sunlight form the north.
On the grounds of the temple there is a strolling garden known as one of Kobori Enshu's three famous gardens. A strolling garden is a style of Japanese garden that is best enjoyed by freely strolling around. Because the countless, small, white flowers on the dodan-tsutsuji bushes planted around the garden look so much like stars, the garden is known as the "Garden Full of Stars".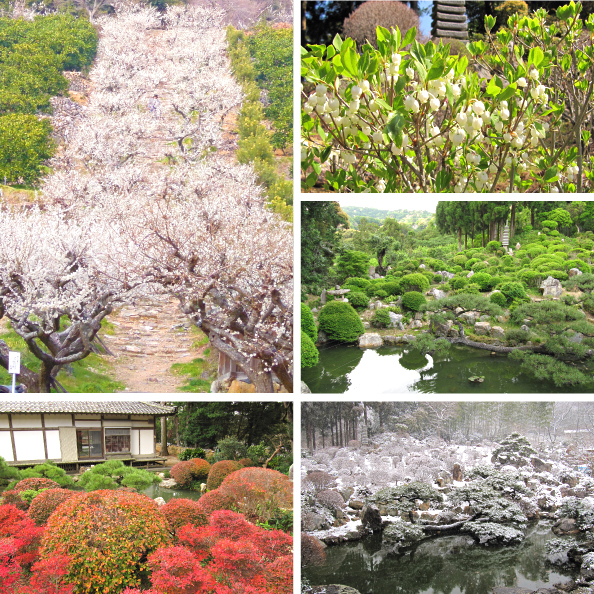 The main building has already been demolished by age and what buildings remain are those built in the Edo period, such as the reception hall for the Kondo clan's (Kiga border caretakers) prayer temple, which has a panoramic view of the garden on its upper tier. The garden's scenery was designed around the mountain range behind the temple and the huge gleaming rocks on the mountain side. The pond in front of the reception hall is like a miniaturized version of the scenery of Lake Hamana. The stone walkway that extends from the main hall is known as the Plum Tunnel, and many people visit each season to enjoy its changing, natural beauty.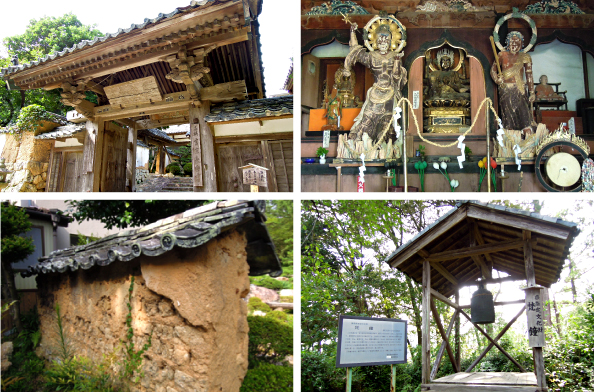 The temple contains precious cultural objects that speak of its history, including the main image, one of Hayagriva (made in the Kamakura period 1185-1333), the temple gate (made mid-Edo period 1603-1868), an earthen wall (made in the Muromachi period 1336-1573), and the second oldest temple bell in Shizuoka prefecture (made in the Kamakura period 1185-1333).
Admission

Less than Junior high student

FREE

Adult

¥300




Discounts for groups of 10 or more




Less than Junior high student

FREE

Adult

¥300

https://chouraku-ji.org
(Japanese)
View a Larger Map
ADDRESS
7953-1 Kiga, Hosoe-cho, Kita-ku, Hamamatsu-shi, Shizuoka
PHONE
053-522-0478
OPEN HOURS
9am – 4pm
TRANSPORT
From Hamamatsu Station
[BUS]
Take the "No.40 Mikkabi shako" line bus at bus stop #15 of the bus terminalto "Chorakuji iriguchi" then walk 5 minutes
[CAR]
Around 20 minutes from Tomei Expressway Mikkabi I.C.
Around 30 minutes from Tomei Expressway Hamamatsu-Nishi I.C.
Around 30 minutes from Shin-Tomei Expressway Hamamatsu Inasa.
2016.11.1 update
Content may be subject to change after publication. Please also note that we are not accountable for loses and damages that may occur as a result of said changes.