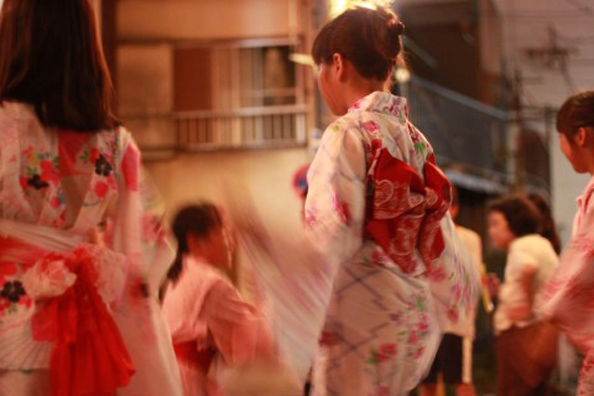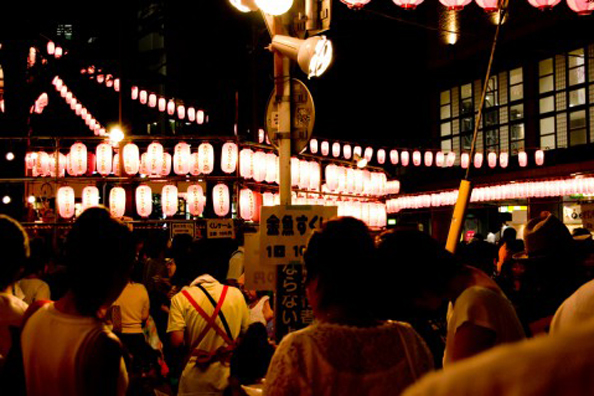 In Japan, there is a period of time, as well as certain events, where people pray for the spirits of their deceased relatives and ancestors to be able to obtain Buddhahood without suffering. There are many events held around the 15th of the 7th month of the old lunar calendar, held to generally correspond to the four-day period between August 13th and 16th. Parts of the Kantō region hold Obon to be from July 13th to 16th, and in Hamamatsu as well, Obon is held in July or August depending on the area.
"Bon-Odori," as the name suggests, refers to a dance (odori) held during Obon. One of the folk arts held dear by Japanese, there are various explanations, but the dance is performed all over Japan in order to receive spirits and send them off again.At the present day, the religious aspect of the event has been mostly lost, and the dance is held as an event to liven up summer festivals and so on.
There are many cases in which the movements of the dances passed down from long ago are made to coordinate with lyrics describing such actions as "harvesting the rice" or "scooping the mud." This gives the dance the unique quality of being easy to remember, meaning anyone can easily participate. Dress can consist of anything, but since the choreography is based around yukata, people can often be seen wearing it while dancing.
Just like in ages past, Bon-Odori, with its emphasis on rhythm and lively movement, continues to liven up the summer nights of the present day as well.

61st Hamamatsu Tanabata Yukata Matsuri


"Bon-odori practice around the city central"




There will be "Tanabata Bon-odori on the evening of 3rd and 4th August, 2015!




But before that...




Bon-odori practice provided by folk dance teacher.




Everyone's welcome.

No application needed.




Kogawa, Houseikou, head of Japan Folk Dance Research Hamamatsu branch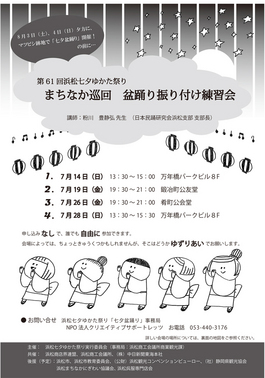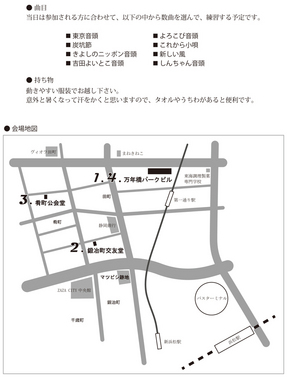 Click to enlarge
Dates and Time
1. 14 July Sun 13:30-15:00 @Mannenbashi Park Building 8F, 327-24 Tamachi
2. 19 July Fri 19:30-21:00 @Kajimachi Koyudo, 320-6 Kajimachi
3. 26 July Fri 19:30-21:00 @Sakanamachi, Kokaido, 316-3 Sakanamachi
4. 28 July Sun 13:30-15:30 @Mannenbashi Park Building,
※Bring towel and paper fan as it may get hot and humid.
Songs
Tokyo Ondo
Tnakobushi
Kiyoshi no Nippon Ondo
Yoshida Yoitoko Ondo
Yorokobi Ondo
Korekara Kouta
Atarashii Kaze
Shin-chan Ondo
August 3 (Sat) - August 4 (Sun), 2018
Tanabata Bon-odori
[Place] Matsubishi remained site
[Start] 3 sat. 6:30pm - 7pm / 7:50pm - 9pm
[Start]

4 sun. 5:30pm - 6pm / 7pm - 8pm
One Coin Kitsuke (wear a Yukata)
MAP
※

A

rental

,

the

sale

of

the

yukata

costs

a

rate

separately

.

・Ishibashi 3 sat 11am - 6pm / 4 sun 11am - 4pm
Site http://www.1484kimono.jp/index.html (Japanese)
・Kitsuke Studio Hana (
Special Event Space in 4F
Mannenbashi Park Building)  3 sat 1pm - 4pm
Site http://www.kitukehana.com/ (Japanese)
・Tanakaya


・

Marumi


・

Maruyashu


・

Matsuno
Further information
Creative Support Let's 053-440-3176
2015.5.20 update
Content may be subject to change after publication. Please also note that we are not accountable for loses and damages that may occur as a result of said changes.