See beautiful Lake Hamana from a working fishing boat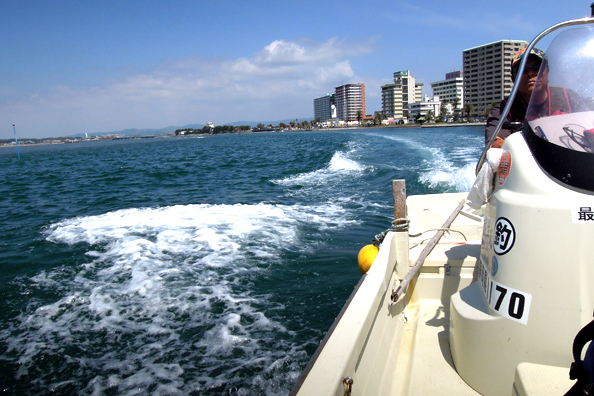 The landing for the pleasure cruise is inside Bentenjima Beach Park, a three-minute walk from Bentenjima Station, with its symbol of the red torii rising over Lake Hamana, three stations from JR Hamamatsu Station on the Tokaido Main Line. Working fishermen steer working fishing boats nimbly and guide you around Lake Hamana, which they know as well as their own gardens. Unlike large pleasure boats, fishing boats are powerful, and close enough to the ocean that you can reach out and touch it. Enjoy special scenery you can only see from the lake and experience the beauty of Lake Hamana by taking in the sea breeze and feeling the sea spray. Also, "Iso Asobi" is a popular course where you can cross over into the red torii while observing the creatures of the sea!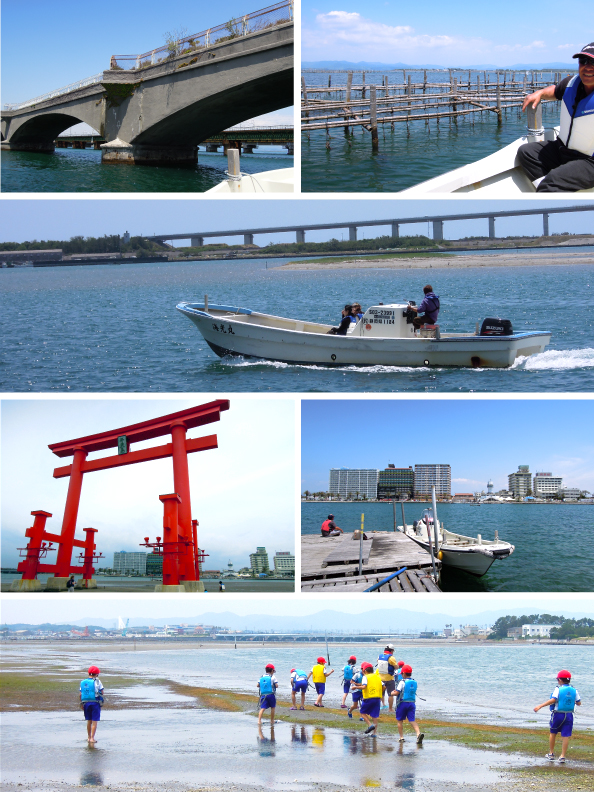 ★

Sightseeing / Playing at sea shore


[
Dates of operation] April 3 (Sat) - October 31 (Sun), 2021 (

Available on weekends and holidays only until June and please contact us from July and onward.

) ※subject to cancelation due to rain or strong winds
★ Contact details
Bentenjima Cruise Association 090-7686-0962 (Japanese only)
Maisaka Tourist Association 053-592-0757 (Japanese only)
http://www.bentenjima.jp/
(Japanese)
※The cruise guides only speak Japanese, but they will greet you warmly by communicating through gestures.
We recommend that people who would like a more in-depth understanding come with an interpreter.
※On every course you can enjoy gathering shellfish or taking photographs on the Ikarize natural tidal flats near Symbol Tower.

You may be hit by spray!
※You may borrow a simple raincoat at no charge.
Admission

30

min. Course

/ Imagire Course
(A group of three)
※¥1,200 per additional adult,
¥600 per additional children


※Sail in 3 or more people




¥3,600

Playing at sea shore


※at least 3 adults can ride together


Adult (Junior high and up)


Children

(4 year old 〜

Primary school)



¥1,200
¥600
Imagire Ferry Course Details
Bentenjima Landing → (Maisaka-juku: Kita Gangi) → Araimachi Landing
The return trip is four minutes from Araimachi Station to Bentenjima Station on the JR Tokaido Main Line. It is several minutes walking from Arai-juku to Araimachi Station or from Bentenjima Station to the landing.
You can enjoy walking around Maisaka-juku near Bentenjima Landing, and around Arai-juku near Araimachi Landing.
About Imagire Ferry
The Imagire Ferry was an important method of transportation long ago linking the modern towns of Maisaka and Arai.
Hamana Lake is well-known as a brackish lake, but it was originally separate from the Pacific Ocean. However, a major earthquake and tsunami in 1498 caused the barrier separating them to give way, and it became the brackish lake it is now. The area that gave way came to be called Imagire, after the Japanese ima kireta ("it just broke"), and the local people had to cross it by ferry thereafter. The Imagire Ferry was abandoned after the Lake Hamana Bridge was constructed in 1932. On the Imagire Ferry Course, revived in 2013, you can experience the feeling of a traveler in those days. These days, the boat ride is only about 30 minutes, but in the old days it is said to have taken as long as two hours.
---


"Gangi" (pronounced "gange" in the local area) is the term for a stepped ferry dock and this northern gange is the ferry dock on the Maisaka side. There were once 3 ganges in Maisaka and each one was used by certain people. This northern gange was used by Daimyo and Shogun and the stone paving is still the same as it was originally.
---
>>

Minami Hamana Lake Pleasure Cruise


/ 南浜名湖遊覧船【minami hamanako yuransen】
ADDRESS
3775-2 Maisaka, Maisaka-cho, Nishi-ku, amamatsu-shi,Shizuoka
TRANSPORT
From Hamamatsu Station
[TRAIN]
Tokaido Main Line get off at "Bentenjima"station (12 minutes) then Walk (3 minutes)
2020.11.15 update
Content may be subject to change after publication. Please also note that we are not accountable for loses and damages that may occur as a result of said changes.