Enjoy a day trip to an onsen at a resort spa near Lake Hamana!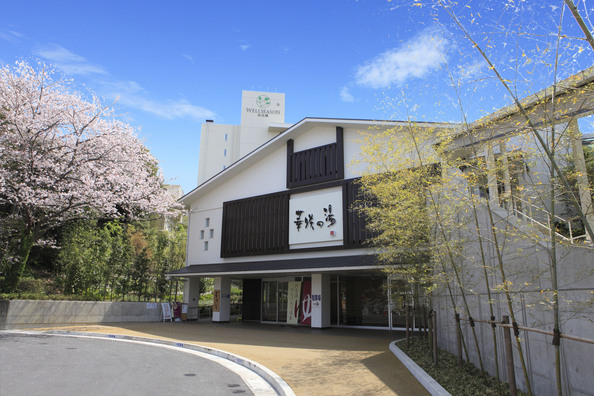 The onsen of Hamamatsu is called "Kanzanji Onsen." It has one of the largest onsen resorts in Shizuoka Prefecture that is reachable as a day trip, the "Hanasaki no Yu," comprising of three large baths, each one with its own characteristics: "Hinoka no Yu," "Shakkei no Yu" and "Daidarabotchi no Yu." It has more than 20 baths in total in many different varieties, including indoor baths, open air baths, cold water baths, and saunas. The resort also has restaurants, cafes, relaxation massage and beauty facilities; a wonderful place of healing where you can relax for the whole day. Bath and face towels are complimentary (although some may incur charges), so you can feel free to stop by at anytime.

Left: Hinoka no Yu / Right: Shakkei no Yu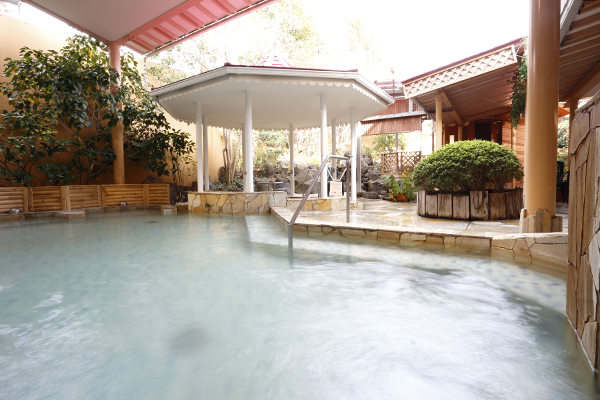 Daidarabocchi no Yu
Relaxation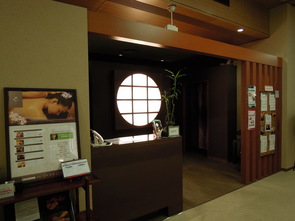 Relaxation Salon "On"
Complement your onsen visit with a relaxation massage or beauty treatment for more effective healing. The two salons, Relaxation Salon "On" and Body & Foot Care Salon "Shiran", offer a variety of services.
After Bath Drink!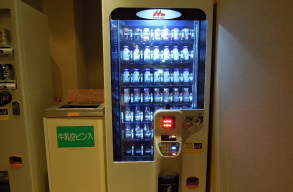 Japanese people love to drink a cold bottle of milk after having a bath. This is why onsen resorts have vending machines that sell milk. As you travel around Japan, why not follow the Japanese tradition and try drinking a cold bottle of milk after enjoying the baths?
Relaxation Area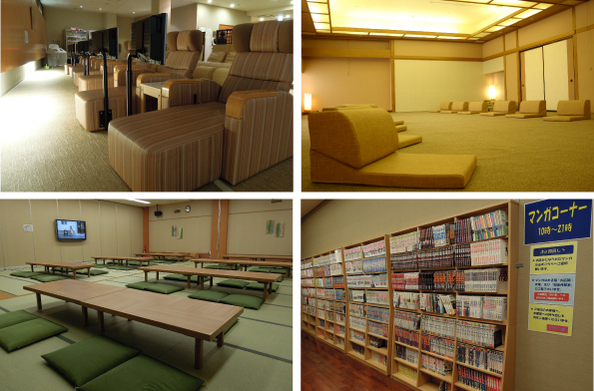 The resort provides a variety of relaxation areas, from reclining chairs with built-in TVs, to banquet halls laid down with tatami mats which are unique to Japan.
It also has a manga corner offering approximately 2,700 manga books.
Highly Recommended Buffet + Bath Package

This package offers you a great price that allows you to enjoy a bath at "Hanasaki no Yu" and a buffet at the restaurant "Lupinus," situated next door at the "Hotel Wellseason Hamanako."
※ The buildings for "Hanasaki no Yu" and the Hotel are connected together, so you can move between them wearing your yukata.
Reservations required. (For reservations please call 053-487-1111)

"Lupinus" offers a buffet with a great variety of dishes made with a wonderful range of ingredients unique to Hamanako. The buffet will allow you to try a great variety of Japanese dishes. This is a highly popular restaurant thanks to its varied selection of food, including dishes that are freshly cooked right in front of you, healthy dishes made with local produce, and sweets made by a pastry chef.
How to Enjoy Your Onsen Day Trip
①Enter from the entrance of "Hanasaki no Yu".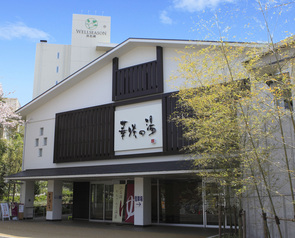 ②From here onward it is prohibited to wear shoes. Remove your shoes here.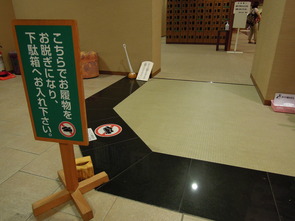 ③Put your shoes in a shoe locker and lock it with the key.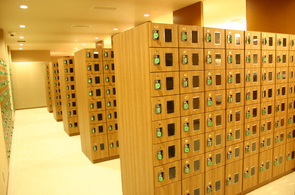 ④Proceed to the ticket booth.
Purchase a ticket to the onsen from the automatic ticket vending machine. You can also pay with electronic money.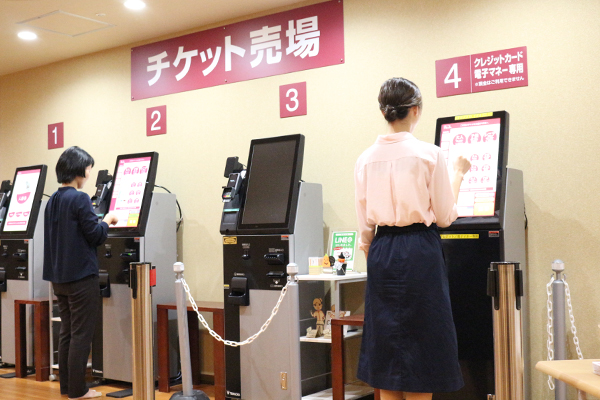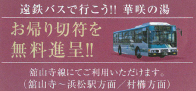 If you are using an Entetsu Bus, please ask for your "Entetsu Bus return ticket" (free return ticket from Kanzanji Onsen to Hamamatsu Station).
Please show this page to a staff!
④Proceed to the entrance
After handing over the ticket at the entrance and receiving a towel, choose a yukata at the yukata rack beside the entrance.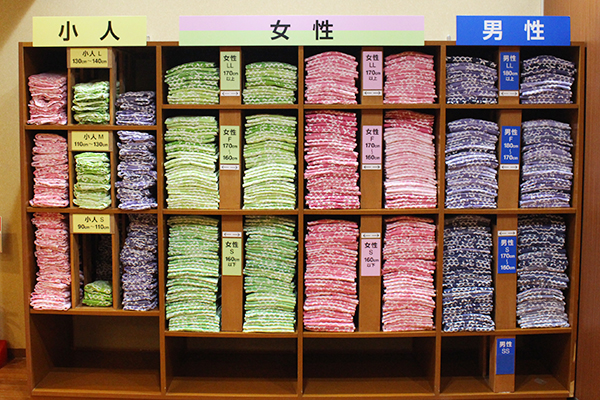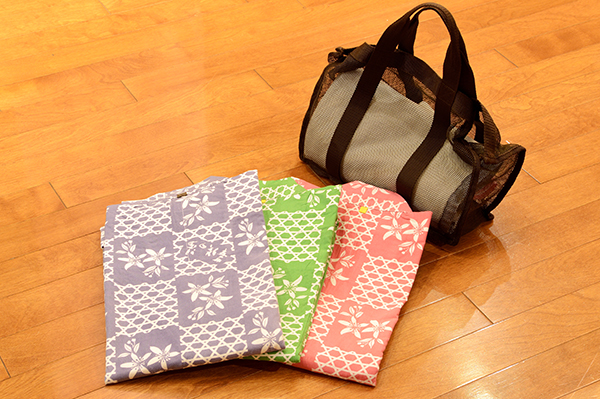 Yukata rack/ A towel set & Yukata
⑥Change into your yukata in the locker room.
All three baths "Hinoka no Yu (ladies and gents baths are swapped monthly)," "Shakkei no Yu (ladies and gents baths are swapped monthly)," and "Daidarabotchi no Yu (with fixed ladies and gents baths)" are a distance away, so please make sure to change into your yukata first before proceeding to the baths. Please wear your yukata while inside the building.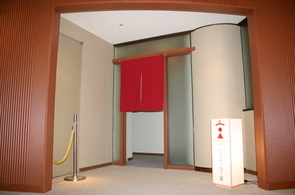 Photo of the entrance to the ladies locker room
⑦Enjoy the facilities for bathing, dining, and relaxing.
Let's have a relaxing day at the restaurant, the relaxation salon, the manga corner, etc.

⑧Return your towel to the return box when you leave.
When you leave, return your towel to the return box. Return the towel, the bath towel, the yukata, and the resort bag to the return box and leave the building. Don't forget to put your parking ticket through the free-parking processing machine.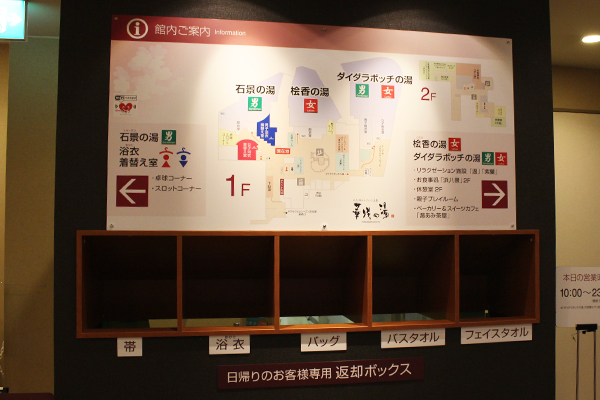 Admission
Week Day
3~5 age
¥850
Elementary
¥850
Adult
¥1,420
Sat, Sun, Holiday
3~5 age
¥970
Elementary
¥970
Adult
¥1,680
ad
5pm 〜
3~5 age
¥660
Elementary
¥660
Adult
¥1,100
Specific day
3~5 age
¥1,100
Elementary
¥1,100
Adult
¥1,980
※Face towel,bath towels,and loungewears will be supplied at free of charge. (210yen rental fee will be charged if you visit with after 5pm discounted admission.)
※Please check in advance by web site about Specific day.

http://hanasakinoyu.jp/
(Japanese)
ADDRESS
1891 Kanzanji-cho, Nishi-ku,Hamamatsu-shi, Shizuoka
PHONE
053-487-0001
OPEN HOURS
10am - 11pm (Last admission time 10pm)
※Opening of "Daidarabocchi no Yu" is from 11am.
TRANSPORT
From Hamamatsu Station
[BUS]
Take the "Kanzanji Onsen" line bus (60 minutes) at bus stop #1 of the bus terminal to "Kanzanji Onsen" then walk 1minutes
※you can get a "Entetsu bus return free ticket ( to Hamamatsu station )" in the front desk.
[TAXI]
35 minutes
2021.10.12 update
掲載日以降に、掲載内容は変更になる場合ございます。
また、掲載内容による損害等は、弊社では補償いたしかねますので、予めご了承ください。