Experience the traditional Japanese Ryokan at an affordable price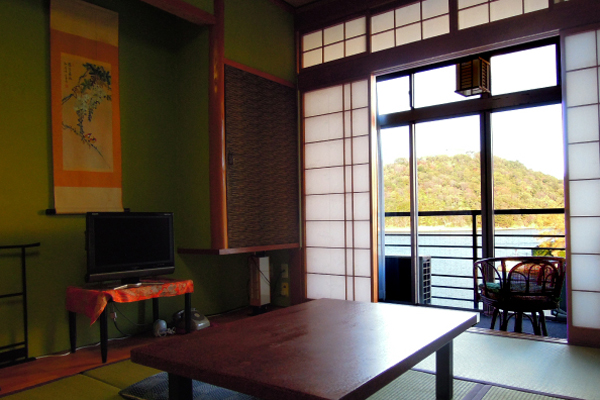 Ryokan Nakaya is a traditional Japanese style hotel. Located adjacent to Lake Hamana in Hamamatsu city of Shizuoka prefecture, the beautiful scenery of the lake is visible from every guest room.
At Ryokan Nakaya you'll experience the traditional Japanese 'Ryokan' at a reasonable price so you can relax and enjoy the traditional Japanese atmosphere!
You can make reservations at Ryokan Nakaya by email, FAX, and Internet.
Don't forget to say you "Saw us in inhama!"

Left: Entrance/Center: Free Bicycle Rental/Right: Amenities
GUEST ROOMS INCLUDE
Air conditioning, TV, extension telephone, refrigerator (empty), toilet, wired cable internet access (free cable rental)
AMENITIES
Toothbrush, cotton robe, face towel, Japanese tea set
<Room with bath>Body soap, shampoo, conditioner
General Information
Check-in
4pm
Check-out
10am
Credit cards
Cash only. No credit card.
Parking
Free parking lot for 10 vehicles
Language
Simple English
Capacity
6 room (All Japanese-style room, and Ocean view)
※No Elevator
Internet
Wired cable internet access
Address
2214 Kanzanji-cho, Nishi-ku, Hamamatsu-shi, Shizuoka Japan 431-0101
Telephone
053-487-0159
Fax
053-487-2607
E-mail
ryokan@yynakaya.com
Transport
From Hamamatsu Station
[Bus]
Take the "Kanzanji Onsen" line bus (45 minutes ride) at bus stop #1 of the bus terminal to "Kanzanji Onsen" then walk (5 minutes).
[Car]
15 minutes from Tomei Hamamatsu Nishi I.C.
Miscellaneous
A cancellation fee will be applied within seven days of your reservation.

Japanese Site:
http://www.yynakaya.com/
English Site:
http://www17.plala.or.jp/yynakaya/english/index.htm
2016.2.18 update
Content may be subject to change after publication. Please also note that we are not accountable for loses and damages that may occur as a result of said changes.