Enjoy a calm moment, viewing the Japanese garden and experiencing the tea ceremony at Shointei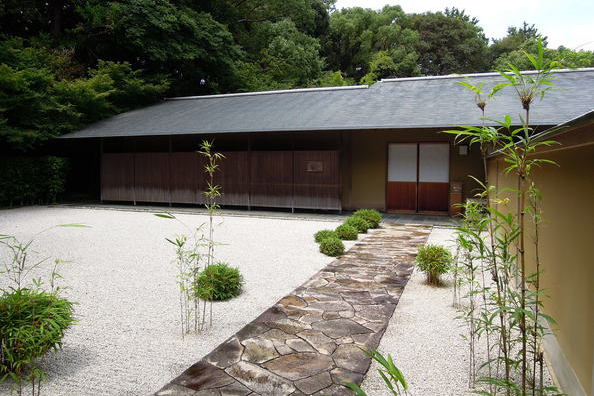 Shointei lies in one corner of Hamamatsu Castle Park. The tea ceremony may sound intimidating, but here, we offer a tea ceremony that anyone can comfortably experience, including foreign visitors. Visitors can also sit on chairs for the tea ceremony. Also, there is no need to wear anything special, so please feel free to drop in anytime.

The teahouse overlooks a lush green Japanese garden, a beautiful space that changes with each season, fresh greenery in spring and red leaves in fall. You can hear the rustle of leaves in the wind, and the sounds of insects and birds. Come and feel the essence of Japanese culture in this space, where you hear only the sounds of nature and the seasons as you gaze at the greenery.
Tea Service
One seat (includes tea and a Japanese confection)... ¥ 500
We alternate daily between offering matcha, powdered green tea, and sencha, leaf green tea. (Reception hours: 10am〜4pm)


http://www.shouintei.jp/
(Japanese)
ADDRESS
11-4 Shikatani-cho, Naka-ku, Hamamatsu-shi, Shizuoka, Japan 432-8014
PHONE
053-473-4310
OPEN HOURS
10am - 4pm
CLOSED
Monday(Open when National holidays fall on this day)
December 29 ~ January 3(Tea service available until December 28)
TRANSPORT
From Hamamatsu Station
[BUS]
 Take the all line bus (10 minutes) at bus stop #16 of the bus termina to "shikatani-cho minami" or "shikanani-cho"
Or Take the all line bus (10 minutes) at bus stop #13 of the bus termina to "hamamatsujo kouen iriguchi"
[TAXI]
 10 minutes
2023.6.2 update
Content may be subject to change after publication. Please also note that we are not accountable for loses and damages that may occur as a result of said changes.