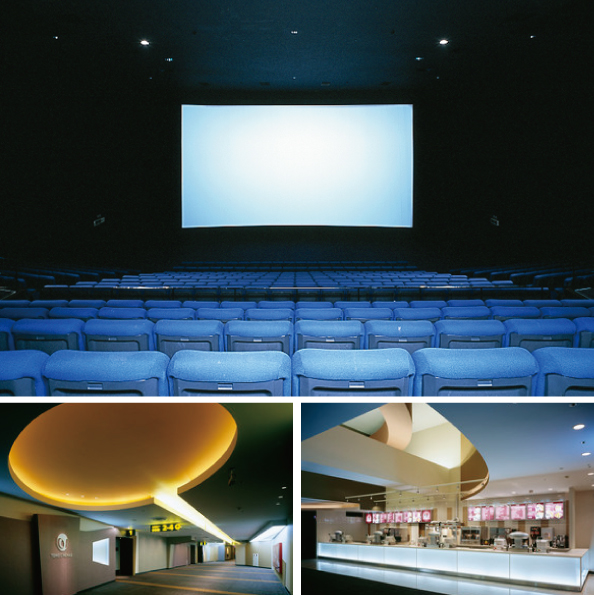 Cinema complex located within a shopping mall.

A wide variety of movies are featured including Hollywood movies, Japanese movies, and other Asian movies.

"TOHO Cinemas Hamamatsu" is located on the 3rd floor of Zaza City Hamamatsu West Wing, a shopping mall which is only 5 minutes away on foot from Hamamatsu station.
The complex features 9 screens ranging from 97 to 319 seats, with a total seating capacity of approx. 1900. All seats are reserved and theaters are turned around after each show.
Stadium-style seating with a steep incline and spacious 50cm seat widths provide comfortable and unobstructed views of the screen from every seat.
 Tickets can be purchased beforehand online (English translation available) or at the ticket counter. The movie guide at the ticket counter is translated into English for your convenience.

Outside food and beverages are prohibited. You can purchase food and beverages inside the complex.

Foreign movies are subtitled and/or dubbed. Subtitles are in Japanese only.

[MOVIE&SHOWTIME] http://hlo.tohotheater.jp/net/schedule/004/TNPI2000J01.do

Popcorn and hot-dogs are always popular among movie-goers. The most popular choice is caramel popcorn, the sweet aroma of caramel is simply irresistible.
 Alcoholic beverages including wine are also available.
Admission

General

¥1,900

University Student




※Please bring your student ID.

¥1,500

High school Student




※Please bring your student ID.

¥1,000

Student (Jr. High, Elementary)

¥1,000

Child (3 year old and up)

¥1,000

Senior (60 year old and up)


※Please bring your ID for verification of your age




¥1,200
Please see below for details regarding various discounts and other services.
http://www.tohotheater.jp/theater/004/price.html
Credit card VISA/MASTER/JCB/AMEX

Manners at Japanese movie theaters:

Japanese people enjoy movies in a quiet environment.
Please be courteous and refrain from talking or making noises! Please remain quiet, including during the end credits.
You can start chatting after you are out of the theater! Please turn your cell phone off!

http://hlo.tohotheater.jp/net/schedule/004/TNPI2000J01.do
2016.3.7
update
View Larger Map
>>

TOHO CINEMAS Hamamatsu

/ TOHOシネマズ浜松

ADDRESS
The 3rd floor of Zaza City Hamamatsu West Wing 15-2 Kajimachi,Naka-ku, Hamamatsu-shi,Shizuoka
PHONE
053-413-6666
OPEN HOURS
Depends on featured movies.
TRANSPORT
From Hamamatsu Station
[WALK]
5 minites
2019.9.30 update
Content may be subject to change after publication. Please also note that we are not accountable for loses and damages that may occur as a result of said changes.