You can get well-selected items made by producers from Shizuoka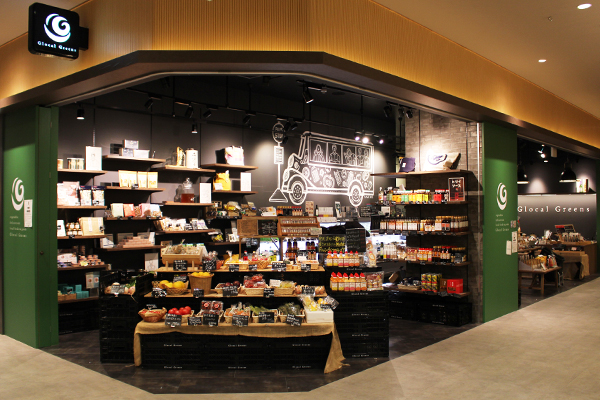 The store is filled with locally made products that you'll want to recommend to your friends, and through which you can feel the charm of Shizuoka Prefecture. Fresh vegetables which are delivered from all over the prefecture, and various seasonal, rare vegetables are also available. In addition, fruits, game meat, and prepared foods such as jam, bentos and daily dishes are always sold. You can also get food items that are recommended as souvenirs. If you want, the staff can also recommend some recipes using the seasonal produce. (only in Japanese)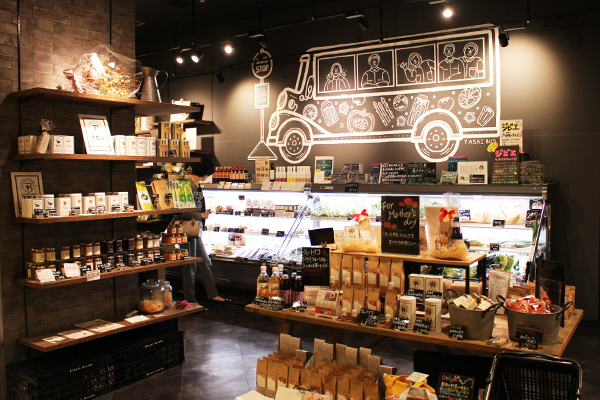 At this shop in central Hamamatsu city, you can get your hands on items locally crafted in Shizuoka Prefecture.
---
WE RECOMMEND!!
At the lunch time, you can get rice balls, salad and daily dishes which are without chemical seasoning or additives. If you are tired and want to have a meal at the hotel, but don't feel like having convenience store food, it's recommended!
---
iN HAMA Select Booth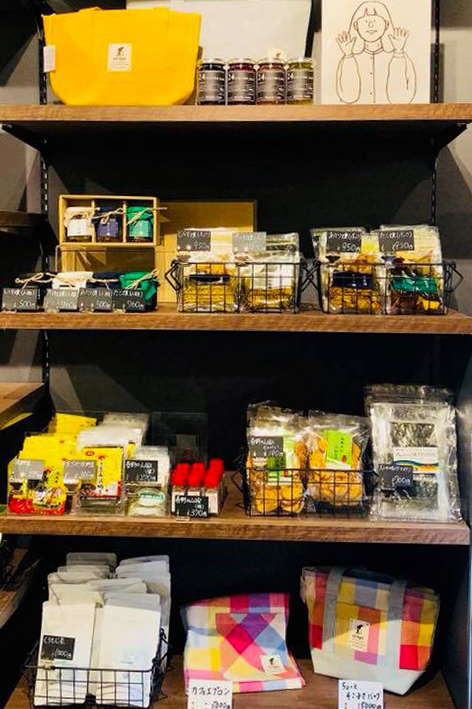 Actually, we have a booth in Glocal Greens! We sell delicious and cute stuff from Hamamatsu and Hamanako. Please stop in and see what kind of craftsmen and what kind of products we have to introduce!
<< List of products >>
Hamanako Farm made【quail's raw egg】
Organic quail eggs have a refreshing taste compared to chicken eggs.
Yamahei made【Hamanako seaweed】
Hamanako seaweed made in such a way that makes it stand out from the mass produced ones.
Oishi Farm Ham studio made【pork jerky】
This ham is spicy and so good that you cannot help wanting more! Good as a snack for drinks.
Hinata café made【jam】
Tasty jam that's also cute; made with fresh, local ingredients
KICORO made【Lindera tea】
Made by woodcutters from the Lindera tree. The smell is the best as well as the flavor.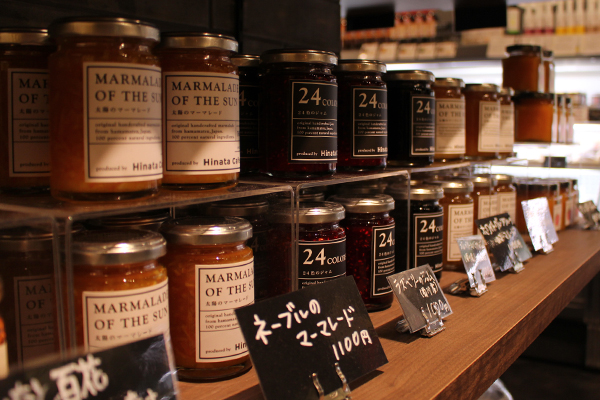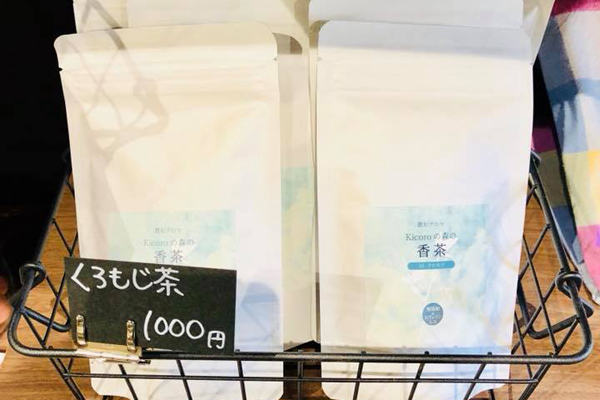 Meijiya Shoyu made【Soy sauce・Japanese brown sauce】
Highly recommended - a historical soy sauce maker that was established in 1875.
Izawaen made【Japanese pepper and rice cracker with it】
The sharp taste it leaves on the tongue will have you wanting more! Actually there are many recipes using Japanese pepper.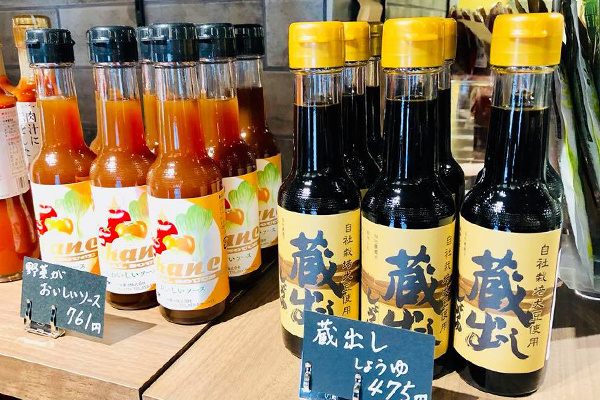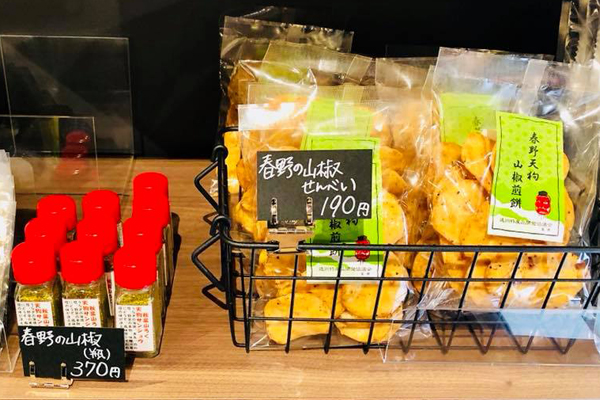 Momiji-ya made 【olive oil pickles】
Olive oil pickles made using Hamanako ingredients such as oysters/octopuses/short-necked clams. An unexpected flavor combination that is difficult to imagine! *There are some seasonally limited items.
Ota Foods made【dressing】
Additive-free mayonnaise based dressing made using Hamanako eggs, as well as many other varieties of dressings. Hamamatsu's own fresh Mikkabi orange dressing is recommended.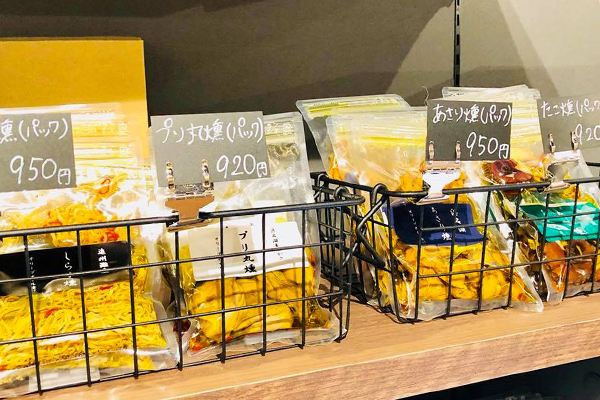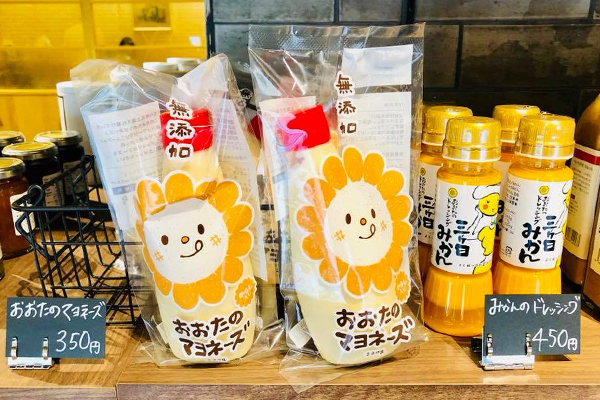 Yamaya Shoyu made【Hamanotto(Dried Natto)】
They make additive-free and naturally brewed fermented food. Chopped Hamanatto can be a magical seasoning which adds a depth of taste.
Furuhashi Shokufu made【tote bags・café aprons】
They made goods dyed with colors made from vegetables and fruits. The bags are strong, have a good shape, and are convenient to use. The subdued color is so cute.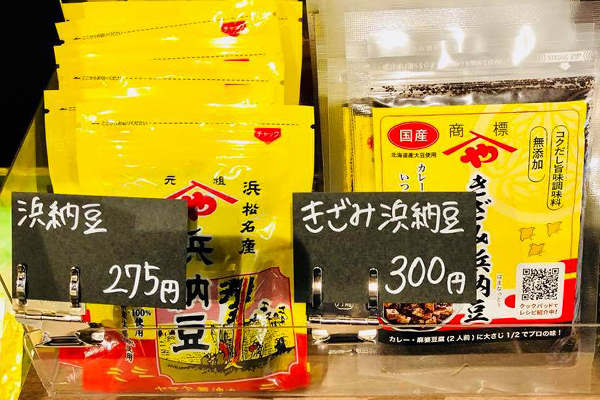 ADDRESS
  Zaza city Hamamatsu 1st Floor, 100-1 Kaji-machi, Naka-ku, Hamamatsu-shi, Shizuoka 430-0933
PHONE
  080-3135-6935
OPEN
 10am-8pm 
CLOSED
 Days Closed of Zaza city
TRANSPORT
 From Hamamatsu Station
[WALK]
 5 minutes
2019.5.27 update
Content may be subject to change after publication. Please also note that we are not accountable for loses and damages that may occur as a result of said changes.