A must-see for Muslim people living in Hamamatsu, or who have plans to visit Hamamatsu!
What's Halal?
Halal means "lawful" or "permissible" in the world of Islam. The "lawful" here is used in the context to mean, agreeing with the teachings of Islam, and anything that is aligned with the teachings of Islam are represented as halal. Halal food is called as such to mean food that conforms to the teachings and "can be eaten", and food that is prepared in the right way using halal food, are in turn called halal cuisine.
In addition, the eating of pork or drinking of alcohol is prohibited in the world of Islam, but other meat such as chicken or mutton is permissible for eating. However, even then, if the meat is not slaughtered in accordance with the teachings of Islam, they are not allowed to be eaten. Inspections are also conducted for condiments where they are traced all the way back to the raw ingredients used, to ensure that no non-halal ingredients were used.
Shop where you can buy halal ingredients
※This is the halal logo.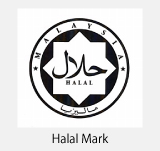 In the foreign food section, there's a variety of halal food. At rare occasions you may also find them on other shelves.
[ADDRESS] 11-1 Higashi-Wakabayashi-cho, Minami-ku Hamamatsu-shi, Shizuoka
[PHONE] 053-441-3810
[FAX] 053-441-7858
[OPEN] 9am - 2am
[CLOSED] None
Theyare now available in all Gyom Super in Japan.
Useful Application
Halal Japan
This is an application that can be downloaded free on iPhone. There is a listing on whether the food products sold in Japan are halal or not. Also, if you scan the barcode, you can tell whether the product is halal or otherwise. ※ There are select foods that are not listed in the directory.
There are also introductions of eateries in Japan where you can eat halal food.
Halal Gourmet Japan
An application which by using you can see a map of your surroundings.. You can find "Halal restaurants close to you" at a glance.
*Some restaurants are not listed.
Halal Restaurants in Hamamatsu
★

Halal Restaurants in Hamamatsu
※There is also a place where you can buy halal products
2015.5.19 update
Content may be subject to change after publication. Please also note that we are not accountable for loses and damages that may occur as a result of said