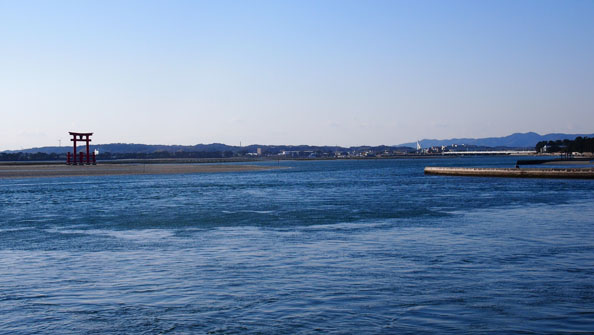 Lake is Ko in the Japanese language and Hamana lake is the tenth largest in Japan. This lake was once fresh water however due to an earthquake in 1498 the southern tip split open then later was widened to the Pacific ocean by a tidal wave. It is now a brackish water lake and home to delicate nori, eels, oysters, shrimp, soft shelled snapping turtles and other varieties suited to the environment. Many products are made from the area by local shops, stores and restaurants which offer unique delicacies, dishes and merchandise.There is a large red Torii in Bentenjima. These structures represent sacredness and this one stands out remarkably from different perspectives. The setting sun behind the torii is a popular pursuit for many spectators during winter months.Beaches, boat racing, hot springs, parks and historical value make Bentenjima a great day or two of fun for single travelers, couples, families and groups alike.

★

The fireworks festival in

January is very popular and provides exquisite views as colorfully illuminated plumes light the night sky and reflect from the water's surface.
★

Cycling around the lake is a good way to stay in shape and enjoy nature.

Cycling roads and rental shops

make this possible for most residents and visitors.
★

Fishing, boating,

water-sports

fresh and salt water. Local delicacies.
View Larger Map