Let's enjoy Hamamatsu with a rental bike departing from downtown!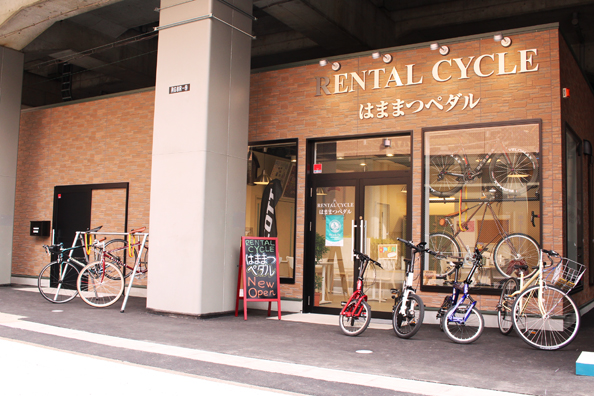 "Hamamatsu Pedal" is a rent-a-bicycle shop which started in January, 2017. It is under a girder bridge on the south side of
Act City
which is on the east side of Hamamatsu station. You can walk to the shop from the station in three minutes!
There are many kinds of bikes such as road bikes, cross bikes, mini velos and more. We have over 60 bikes of 5 kinds. The electric assist road bike YRJ-R by Yamaha, which doesn't look like it is electric because of its compactness, deserves your attention!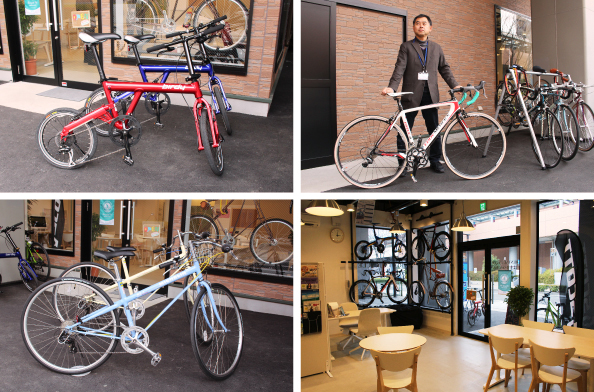 Also for the people who visit Hamamatsu for the first time, the offering of a paid cycling course with a guide is expected to start. It will widely support user's requests such as the sightseeing course in Hamamatsu or around Lake Hamana, or the course which has the element of fitness. Moreover, there are coin lockers useful for travelers, and any large baggage which cannot be fit in the lockers can be kept at the reception. You can spend your time before check-in meaningfully by exploring the city.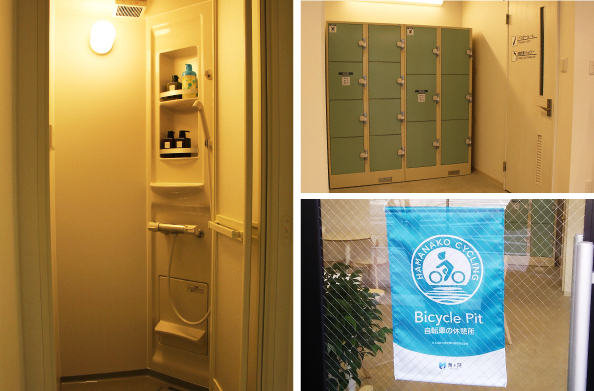 "Hamamtsu Pedal" can respond to various ways to enjoy Hamamatsu, from the people who want to run through Hamamatsu breezily to the people who want to enjoy leisurely. Please enjoy cycling in Hamamatsu.
bicycle pit (a rest station for bikes)
★You can use Hamamatsu Pedal as a bicycle pit.
Bicycle pit is a facility which has all the conditions below.
・Provide the space for parking bikes
・Free use and rental of maintenance tools (pumps and wrenches)
・Welcome cyclists!
How to apply
① Apply at the counter
Please fill out an application form at the counter.
② Apply by phone
※By 17:00 on the day before you want to rent
Please let us know the name, age and telephone number of the user as well as the kind of rental cycle and the day you want to rent it.
③Apply by FAX/E-mail
※By 17:00 on two days before you want to rent (we will confirm your reservation by the day before you want to rent)
Please let us know the name, age and telephone number of the user as well as the kind of rental cycle and the day you want to rent it.

■
You need to bring an ID with a picture (driver's license, passport, employee ID card, student's ID card, and so on) when you rent a bike. (If you apply for a family use, a representative needs to show an ID.)
■
A person under 18 need to be accompanied by the guardian. Or a letter of permission with a hand written signature by the guardian is needed.
■
An elementary school student who is under 135 centimeters tall cannot rent a bike.
Rental Fee
Division

Under 4 hours

A day (over 4 hours)

Delay rate
(per hour)


Road bike

¥2,000

¥4,000

¥1,000

Cross bike/ Mini Velo

¥1,000

¥2,000

¥500

Electric assist bike

¥500

¥1,000

¥500

City cycle

¥300

¥600

¥300
Coin locker
Baggage storage
Small size 

¥200

/ day


¥300

for one/ day
Medium size 

¥300

/ day


Shower

Rental user 

¥200

/ time
Others 

¥300

/ time
※You cannot borrow a bike over two days in a row.
※Please return the bike by 30 minutes before the closing time. If you delay the time, you need to pay extra.
In the case of breakdown
Repair a flat tire
A flat tire which occurred during your rent should be brought to the nearest bike shop to repair. The price of the repair should be paid by the user.
Other repairs
If you have any trouble with the bike, please go back to the place you rent it. In the case you caused the reason for the breakdown, you have to pay the cost for repairs. If you repair it without advance notice, we cannot pay the cost. Also, if the damage occurs to the user or others because of the breakdown, we don't have a responsibility except for the case that the breakdown is caused by our shop.

https://www.hamamatsupedal.com/ (Japanese)
>>

Rental Bike【 Hamamatsu Pedal 】


/ RENTAL CYCLE はままつペダル
ADDRESS
 7-1 Sunayama-cho, Naka-ku, Hamamatsu-shi
PHONE
 080-3652-3196 (Japanese only)
E-MAIL
 info@hamamatsupedal.com
OPEN
 From March to November 9am~7pm(Finish time for rent 4:30pm)
From December to February 9am~6pm(Finish time for rent 3:30pm)
CLOSED
 Nothing
TRANSPORT
 From Hamamatsu Station
[WALK]
 3 minutes
2017.2.22 update
Content may be subject to change after publication. Please also note that we are not accountable for loses and damages that may occur as a result of said changes.